MyNHD...
Who, What, and Why
With over twenty years of providing Disclosure Reports to the real estate industry, myNHD continues to bring you the industry-standard in Natural Hazard Disclosures. My Natural Hazard Disclosure, or "myNHD" is the fastest, easiest way to secure your reports for both residential and commercial transactions. We have been the industry leader for decades and continue to provide the best in customer service and exceptional value.
We Do the Work,
You Get the Protection
By selecting MyNHD, Inc. as your Disclosure Provider, Seller(s) and their Agent(s) are taking advantage of the "Safe Harbor Provision" that transfers liability to the Third-Party Disclosure Provider. MyNHD carries $10 Million in Errors & Omissions (E&O) Insurance which covers ALL parties in the real estate transaction. Best of all, if you don't close, you don't pay!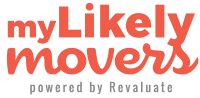 myLikelyMovers
Identify Likely Movers
myLikelyMovers tells you who is most likely to move in your database. myLikelyMovers incorporates your database with public and private data including government, social, search and spending insights to deliver highly accurate information on who, in your database, is most likely to move in the next 6 months. Allowing you to target and advertise to those in your database most likely to need you next.